Last night
I noted that I am certifiable, and now I can tell you I am committed.
Specifically, in addition to having made my hotel reservation a few months ago, and having
registered online
a couple weeks ago, the PP and I have now also purchased our airline tickets to Fort Lauderdale and made a rental car reservation.
In short, there is no backing out now of my plans to compete in the
US Masters Swimming Short Course Yards National meet
.
Ack!
I'll compete on two different days: on Friday, 12 March I'll race the 50 fly and the 200 breast. Then on Saturday, I'll swim the 50 free and the 100 breast. The 50s are in there as warm-up events, so that I can get my jitters out before the events I really care about.
Check out the aquatic center: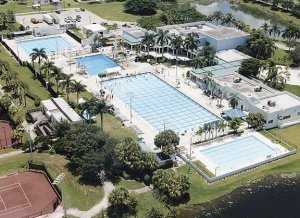 The downside is that my swimteam is mostly an age group team, and based on the public school schedule, they are on spring break for the coming week. So that's when our coach gets a much-needed week away. But that means I'm on my own during one of the more crucial weeks of my training.
The good thing is that I think I have roped a fellow swimmer into helping me through this stint, so that is good. He was our masters coach briefly, before our present coach could arrive but after the previous coach had left. I also swam with him some a couple years ago, before I was swimming with the age-groupers but when I wanted a little extra than our 3-days-per-week masters practice was offering. So I like him, and he is very knowledgeable. I go swim with him in about a half an hour, so before long I will be exhausted, but also more fortified with a plan about how to handle the next few weeks.
Wish me luck.